We have created Sierra Nevada Horses and Heroes non-profit to help our wounded warriors after they have been discharged from the service. We are proud of our efforts.
Our Vision and Mission statements explain who we are and what we do. What these statements don't say is, our vision and goal is to provide these services to our participants at no charge to them. In military tradition, we will leave no one behind. We are counting on our community to rally to our aid and support our efforts. If there is anything you, or anyone you know, can donate (tack or equipment), if you can volunteer (volunteer training to begin soon!) or help us with a cash donation, we would be very appreciative!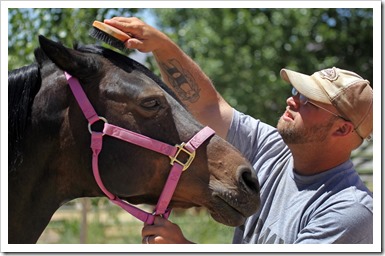 There have been some wonderful and generous donations so far, but as you know, non-profits at start up take some real energy and capital to get going. Our Reno and Sparks communities are so solidly behind and supportive of our returning Vets, it's heartwarming and humbling.
As you no doubt have seen on the news, our Vets are underserved by the Veteran's Administration. This is an opportunity to pick up the slack and give back to the men and women that have protected our freedoms!
We have developed a program that is healing and uplifting to our Vets. We already have a list of Vets waiting for us to open the doors!
We thank you in advance for any help you can give us!
Sincerely,
Kathy Galles, Founding Member, Executive Director
Donate here
Donations to Sierra Nevada Horses and Heroes of any kind are welcome. Cash donations, inheritance, Legacy, planned giving and even physical goods are appreciated. Donations are tax-deductible where allowed and we'll send you a donation letter upon request.
Use the button below to donate any amount you like using your credit/debit card or PayPal account. You can even make your donation a monthly recurring amount during the donation process. Donation letters are only sent on request.